Blogging has been going pretty smoothly. The Monday prompt post, responses and polls during the week, and Friday follow-ups have gotten me into a pretty good routine. That can only mean one thing…It's time to mix things up!
Introducing Water Pong Wednesdays!
The idea is not my own:
A very smart lady I know started water pong Wednesday in her office to have a little more fun. She sends out an email in advance letting the players know the prizes and when it will be played. At the time of the game, each player gets three shots at sinking a ping pong ball into a cup of water at the other end of a table. Each successful shot earns a raffle ticket for one of the prizes. A player doesn't have a good arm? No problem. Three misses earns one raffle ticket for a group of "loser" prizes.
If we could get together, we'd probably use something other than water. And we'd probably turn it in to something writing-related.Well, I think we can do it! At least the second part, anyway. I've decided to make Water Pong Wednesdays a part of the blog.
How it will work on the blog:
About one Wednesday a month, I'll post some fun prizes, both for the "winning" pool and for the "losing" pool. I'll also post a multi-part word game or riddle. Each "player" competes by posting a brain-determined (no search engines, please) answer in the comments. I will respond to each correct answer, and once a riddle is answered correctly, credit can no longer be earned for that riddle. Each player can get credit for up to three correct riddle answers, that will count as three separate entries for the "winning" pool prizes.
Players who don't get any correct answers or join water pong too late can leave a comment for a credit toward the "losing" pool (but this in no way indicates that you're a loser:)). Winners of both prizes will be announced in the usual Friday post.
This Round's Prizes:
Winning Pool- A book of palindromes by Jon Agee. "Agee has put both his dry sense of humor and artistic talents to wonderful use in this book of word play. As if the clever palindromes (sentences reading the same both backwards and forwards) weren't enough, the accompanying artwork adds another dimension, turning the somewhat absurd phrases into downright funny cartoons. This book will make readers think, laugh, marvel, and try to make palindromes of their own."
Losing Pool- One "keep calms and paddle on fridge magnet" (a hint to a riddle answer, perhaps?)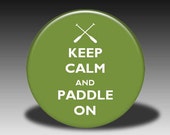 And Finally…Today's Water Pong Wednesday Riddle:
In 1907, A. C. Pearson wrote:
A turning point in every day,
Reversed I do not alter.
One half of me says haste away!
The other bids me falter.
Did you get what Pearson was referring to? Take another shot.
Did you get it the second time through? The answer is ….
noon! Half of the word (on) "means haste away" and half (no) "bids me falter." Get it? Pretty clever, no?
Well since noon is a palindrome, or a word that can be read the same forward and backward, and I happen to have an admiration for palindromes, this week's Water Pong Wednesday Riddle Is:
Name a common palindromic word of five, six (excluding repeats like tut-tut), or seven letters!
Post up to three answers in the comments for up to three chances to win! Can't come up with any palindromes? Post a comment anyway for a chance to win a different prize!